Front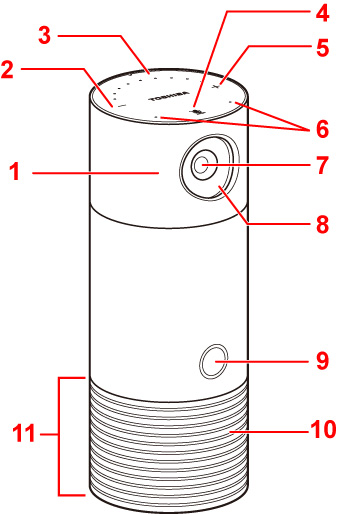 Lens cover

Can be rotated to cover and turn off the video camera.

Volume down button

Press to decrease the volume.

Volume indicator

Dots lights up as the volume is changed.

Microphone mute/Talk button

Press to turn off the microphones. The icon will turn red when the microphones are off. Press again to turn them back on.

Press and hold this button for 2 seconds to wake up Alexa, then talk directly to your Symbio.

Volume up button

Press to increase the volume.

Microphone holes

Used for voice operations.

Camera

Used for monitoring.

Night vision LED

Infrared LED for night vision.

Light ring

Lights up in different colors to let you know what Symbio is doing.

Camera indicator

Lights up when the camera is on.

Speaker

Emits sound when playing back an audio source.