Enjoying Audio on Symbio
Symbio can act as a Bluetooth speaker. You can easily connect your mobile device or computer and wirelessly play your music or podcast through Symbio.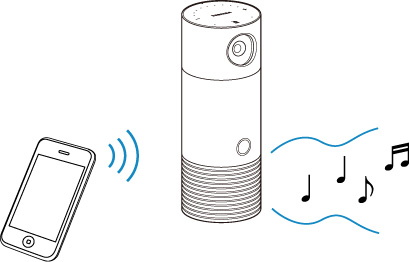 Follow the steps below to begin listening through Symbio.
Press the Network/Pairing button once to activate Bluetooth pairing mode on your Symbio. You can also activate the Bluetooth pairing mode remotely through the Audio section in the Settings Manager. See Settings Manager for more details.

The Light ring LED flashes rapidly blue.

Make sure Bluetooth is activated on the mobile device you wish to connect.

Open the Bluetooth menu on your mobile device.

Tap "THINGS_XXXXXX" specified for your Symbio from the device list.

Your mobile device has been connected to Symbio.

Play an audio source on your mobile device.

Important

Be sure to decrease the volume both on your mobile device and Symbio before you start playing an audio source.