Back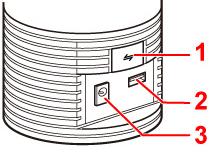 Network/Pairing button

Press briefly to activate Bluetooth® pairing mode.

Press and hold for about 10 seconds to activate Wi-Fi pairing mode.

Note

Bluetooth pairing mode is activated for 60 seconds.
Wi-Fi access point pairing mode is activated for 30 minutes.

USB terminal

Used in the manufacturing process and after-sales service. This is not for consumer use like charging mobile devices or copying files.

Power input

Connect the supplied AC adapter.